Cadeau-ideeën voor Valentijnsdag
Op Valentijnsdag geven geliefden elkaar cadeaus om genegenheid te tonen. Dit gebruik stamt uit de vroege middeleeuwen en is vanaf de Britse eilanden over de hele wereld verspreid. Kleine attenties zoals een bos bloemen zijn een geliefd cadeau. Maar moeten het altijd bloemen zijn? Een verleidelijke geur prikkelt de zintuigen en laat juist op Valentijnsdag de pijlen van Amor afschieten.
Onze cadeautips voor Valentijnsdag
Onze aanbevelingen voor het feest van de liefde
Geuren van partners: Valentijnscadeaus met een bijzondere geurnoot
Chloé Love Story
De eau de parfum Love Story van Chloé zorgt voor sensualiteit, passie en intimiteit: !
dit liefdesparfum betovert met de verfrissende accenten met neroli en is toch zinnenprikkelend door de oranjebloesem. De levendige vrouwelijkheid in het hart van de geurcompositie wordt met de bloemen van het geluk – de bruidsbloem – belichaamd. Chloé Love Story – een eerbetoon aan de vrouwelijkheid en vrijheid en het perfecte cadeau voor uw geliefde.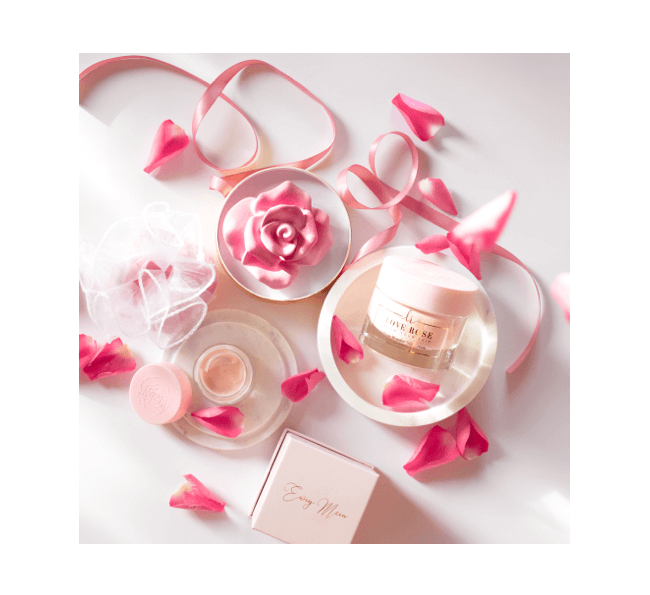 Love Rose Cosmetics
De kracht van de roos op de dag van de liefde
In de producten van Love Rose Cosmetics zit de natuurlijke kracht van rozenblaadjes. De gezichtsverzorging bestaat uit waardevolle bestanddelen en beschermt tegen invloeden van buitenaf. De rozenverzorging heeft een unieke textuur en een betoverende geur – zo ziet u er ook zonder make-up fris en rozig uit. Laat u inspireren door Love Rose Cosmetics die heel makkelijk kan worden aangebracht en geef uw teint op Valentijnsdag een opvallende look.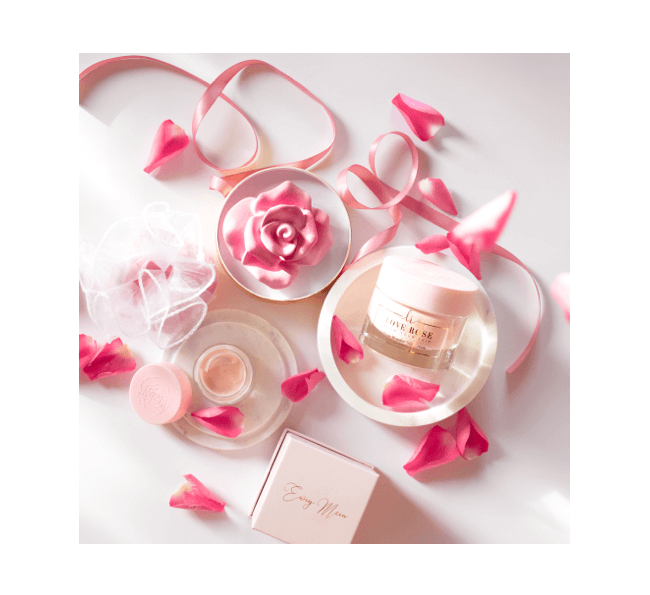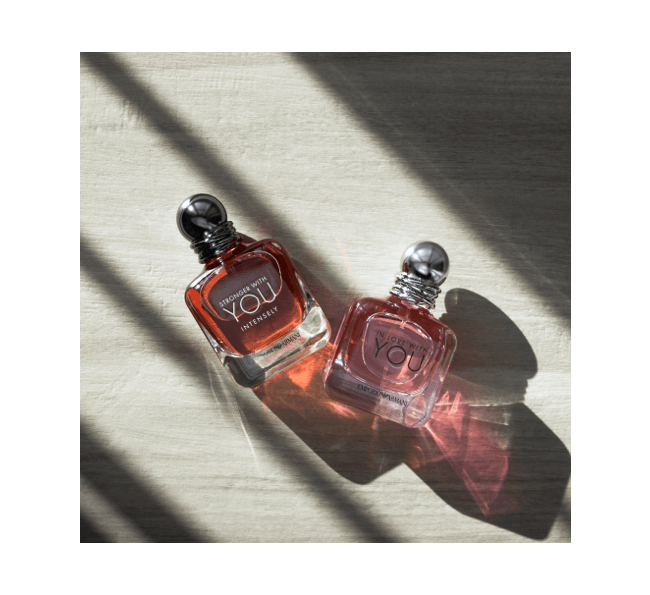 Partner in crime
Het geurpaar YOU van Emporio Armani is het perfecte cadeau voor uw partner op Valentijnsdag.
Stronger With You Intensely voor hem bestaat uit een combinatie van oosterse geurnoten met aromatische specerijen en zachte akkoorden. Een geur vol karakter voor hem die door de spannende combinatie van sterke, zoete en oosterse tonen de man zelfverzekerd en hartstochtelijk maakt. De fijne geurbeleving voor haar begint bij In Love With You met een basisnoot van waardevolle patchoeli en wordt in de hartnoot aangevuld met rozen en jasmijn. De geurnoten van zinnenprikkelende vruchten ronden de compositie van deze unieke eau de parfum voor haar in de topnoot af.
*Aanbiedingsvoorwaarden: Wordt niet in contact geld uitbetaald en kan niet met andere acties worden gecombineerd Geldig tot 07.11.2020. Kan één keer per huishouden worden gebruikt. Geldt niet op cadeaubonnen, Creed, Glamfume. 15% korting bij een minimale bestelwaarde van 50 €. 20% korting bij een minimale bestelwaarde van 100 €.Artikelen uit de sale zijn uitgesloten van deze actie! Parfümerie Akzente GmbH, Ust-IdNr. DE813307548 AG Stgt. HRB 581012.<
Cadeau-ideeën voor Valentijnsdag
Als populairste cadeau voor Valentijnsdag staat een bos bloemen met stip op nummer één. Dat kunnen we met onze online parfumerie niet bieden, maar onze cadeau-ideeën hebben minstens net zo'n aangename geur en gaan veel langer mee! En het is vaak ook het bijzondere dat het perfecte cadeau-idee voor Valentijnsdag is.
Geurend bewijs van liefde: parfum
Veel populaire, gerenommeerde parfumproducenten hebben voor de dag van de verliefden en geliefden zinnenprikkelende, geheimzinnige, verleidelijke en meeslepende parfums ontwikkeld die we hier als exclusief aanbod hebben samengesteld.
Zo kunt u heel makkelijk speciale valentijnscadeaus voor mannen en cadeau-ideeën voor vrouwen vinden en online bestellen. Met onze geurende cadeaus voor uw vriend of vriendin stuurt u heel bijzondere liefdeswensen waar zowel u als degene die het cadeau krijgt lang plezier van heeft, of u uw partner nu als bekroning van een romantisch weekendje weg een complete parfumgeschenkset voor hem of haar met meerdere verzorgende en geurende producten geeft of een kleine en goedkope attentie in de vorm van een lekkere geur cadeau doet.
Hoe is Valentijnsdag ontstaan?
Er gaan veel verhalen rond over waar het gebruik van geliefden om elkaar op 14 februari iets cadeau te doen vandaan komt.
Zo gaat de legende dat de traditie van cadeaus en verrassingen op Valentijnsdag afkomstig is van bisschop Valentinus van Terni. Hij was in de derde eeuw in de gelijknamige Italiaanse stad tegen het bevel van de keizer in met zijn geliefde getrouwd en werd daarvoor op 14 februari onthoofd. Maar er wordt ook gezegd dat de christelijke martelaar de paren voor hun huwelijk bloemen uit zijn tuin cadeau heeft gedaan en het huwelijk van elk paar dat hij heeft getrouwd, een gelukkig huwelijk was.
Maar dit verhaal wordt door historici naar het rijk der fabelen verwezen. Ze denken dat Valentijnsdag uit heidense, voorchristelijke gebruiken is voortgekomen.
Het tweede gerucht over hoe Valentijnsdag is ontstaan, is te vinden in het fabelgedicht 'The Parliament of Fowls' (Het Parlement van Vogels) van de Engelse schrijver Geoffrey Chaucer.
In deze versregels uit de 14e eeuw worden de moeilijkheden en verwarringen bij het zoeken naar een partner in de vorm van een dierenparabel beschreven. Omdat toen werd aangenomen dat de paartijd van vogels in februari begon, werd dit als gelegenheid gezien om de liefde in februari te eren. Vanaf de 15e eeuw werd in Engeland het valentijnsgebruik gevierd en stelletjes begonnen op 14 februari valentijnscadeaus in de vorm van kleine gedichten of attenties te maken.
Engelse emigranten brachten het gebruik uiteindelijk naar Amerika, waarna het gebruik zich later over andere delen van de wereld verspreidde.
Waar u ook voor gaat, met een parfum voor Valentijnsdag geeft u uw geliefde iets moois en geurends als uiting van uw verbondenheid cadeau.